Thomas Kurian Theakanath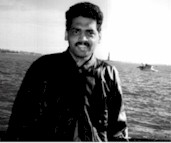 I am a software engineer by profession, but writer by heart.
I am known as Shaji in my native village and home, and among friends Thomman. I am from state of Kerala, India and speak Malayalam. Also I speak English and Hindi and can understand Tamil.
It is very difficult for me to fix my interests on few things, so I am jack of all trades :) Still, I have softcorners in mind for literature , international affairs, sports and movies.
See what I have to offer you:
---

View Guestbook Sign Guestbook
Last Updated: 17th Dec 1997.

My E-Mail Address: thomastk@hotmail.com